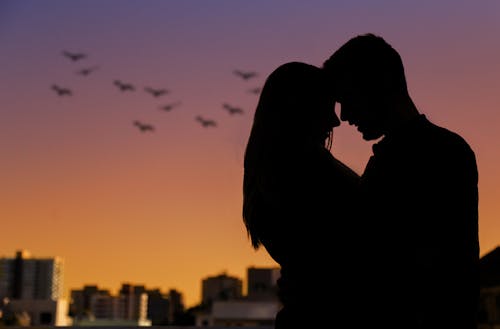 Romantic love messages are guaranteed to make your man's heart melt.
Romantic messages can do wonders for your relationship.
They can be the extra spark that ignites a dying flame or the catalyst that brings two hearts together.
We've put together a list of 100 romantic love messages for him so that you can be prepared with love quotes and sweet wishes at all times.
The best part is, these messages are incredibly easy to send.
Whether you want to make your boyfriend smile, or you're simply looking for things to say to your husband or fiancé, we've got the perfect love message for your guy.
Love messages for him, telling him how special he is, making him realize how much you love and care about him could just be the thing that he needs out of life at the moment.
My darling, aren't you tired of searching for romantic messages?
Finding it hard to express your feelings to your boyfriend or husband?
Then you're in the right place!
100 romantic love messages for him
1. I could be wrong but I think that you are the most gorgeous creature on this planet, and I'm happy to call you mine.
2. I would never wish for anything more than your heart and your smile every morning as long as I live.
3. When we are apart my soul aches for your touch and when we are together it stops hurting and starts beating again.
4. This is not just another SMS from me in fact this is a reminder from me that I am thinking about you all the time.
5. It's weird to explain but whenever you hold me close, the rest of the world slips away so easily as if it was nothing at all but us two in our own little world together forevermore!
6. A hundred hearts would be too few to carry all my love for you.
7. I love you more and more every day. I can't imagine what my life used to be like without you.
8. I love being with you, talking with you, laughing with you, even arguing with you.
10. I don't want a life without you in it. I can't imagine living a single minute of my life without knowing that you're there for me, that I can feel your arms around me, and your heart next to mine.
11. I love the way we laugh together over the silliest things or make each other smile on a random weekday just because we are thinking about one another at the same time.
12. You are my everything—my best friend, my soulmate and my lover. You are everything I need to have a complete and happy life.
13. You are my joy, my heart beats for you. You are my love, I want to grow old with you.
14. You are my compass star. My north, my south, my east and west. My working week and my Sunday rest.
15. You are the love of my life and I know that I am going to make you happy every single day of our lives together as a couple.
16. Together forever and always, never apart maybe in distance but never in heart.
17. Without you I feel incomplete, you're the other half that makes me whole!
18. My heart is and always will be yours forever!
19. Your love keeps me alive and makes me feel complete!
20. I'm much more me when I'm with you!
21. Our souls have their own secret language that only we understand!
22. I love you as one loves certain dark things, secretly, between the shadow and the soul.
23. You're the only man in my life and you better stay that way!
24. You give me butterflies and I absolutely love it!
25. I'm so proud of you and the way that you have handled everything with such poise. You are an inspiration to others.
26. Can we cuddle forever?
27. You make everything so easy for me and I can't thank you enough for being an amazing person in my life!
28. When my hair looks crazy, my mood matches it, but when I see your beautiful face, everything seems to go right back to normal again!
29. Having someone as handsome as you is reason enough to smile every day!
30. You know what would be even better than a text back from you? An invitation to dinner with you tonight! Let me know if you're free?
31. I love it when you send me those texts that make me smile no matter how many times I read them.
32. I've already got a trophy boyfriend, but if the contest were about looks, I feel like you'd definitely win first prize.
33. Your name is written in the sand, your smile is engraved on my heart. You are the light of my life, the only one I love.
34. You are like a beautiful flower that blooms every morning and brings joy to my heart. I love you!
35. You are my dream before bedtime and the star that illuminates my day. You are everything I need to be happy.
36. I will look at you and see the rest of my life in front of my eyes.
37. You are the source of my joy, the centre of my world and the whole of my heart.
38. There are always going to be people who hurt you so what you have to do is keep on trusting and just be more careful about who you trust next time around.
39. I may not be your first date, kiss or love…but I want to be your last everything.
40. I love you for all that you are, all that you have been and all that you're yet to be.
41. When I tell you I love you, I don't say it out of habit, I say it to remind you that you're the best thing that ever happened to me.
42. A heart is not judged by how much you love, but by how much you are loved by others.
43. To be your friend was all I ever wanted; to be your lover was all I ever dreamed.
44. You know when a woman is angry when she starts answering a question with another question!
45. My sweet prince, thank you for loving me so much! You are my one and only true love!
46. You don't even have to do anything special to make me smile – just being around is enough for me! Thanks for always being there when I need someone to talk to or brighten up my day!
47. I love you more than chocolate!
48. It was love at first sight when I saw you sitting on the couch across from me, smiling as though it was all just a dream, yet so real…
49. I never believed in magic until I met you.
50. Just hearing your voice first thing in the morning makes my day.
51. I love you more than the stars in the sky and the fish in the sea. You're my favourite thing ever!
52. Just thought you should know that I love you, no matter what we go through. If you want to be with someone else, that's your choice, but I will always love you.
53. You make me feel like a teenager again.
54. I love being yours and knowing that you are mine.
55. One smile from you and my whole day is made.
56. You're the only man who has ever made me truly happy.
57. I can't think of anyone else who makes me laugh as much as you do or is as caring and sweet as you are. I just wanted to let you know that and remind you that I love you with all my heart!
58. Sometimes it takes a while to realize how important someone is to us. Now, finally, I realize how much I love and need you in my life!
59. I love you! I am who I am because of you. You are every reason, every hope and every dream I've ever had, and no matter what happens to us in the future, every day we are together is the greatest day of my life. I will always be yours.
60. I love you, my sweet prince. I never want to lose you. You are the best thing that has ever happened to me; a dream come true. Happy birthday to the man of my dreams.
61. You are not just my boyfriend; you are also my best friend with whom I can share all my secrets and sorrows without any fear or doubt. Sometimes our eyes get jealous of our hearts because you happen to be in both of them at all times! Happy Birthday, Love!
62. Each time I see you falling asleep, it makes me realize that there is something more important than living life: it is sharing it with someone who is worth dying for. Good night and sweet dreams, my love!
63. You are the one that tripped me, yet you are also the one who caught me when I fell. You mean everything to me and I don't know what I would do if I ever lost you. You have made me cry but also wiped away my tears.
64. You have no idea how fast my heart beats when I see you.
65. You are the reason why I wake up with a smile on my face every morning.
66. You are so special to me and I am glad that we crossed each other's paths in life.
67. If a hug represented how much I loved you, then I would hold you in my arms forever!
68. Thank you for being such an amazing husband! Love you!
69. You make my heart smile like nobody else does.
70. Nothing makes me happier than spending time with you and creating memories together!
71. Every time I see your face it brightens up my day, even if it was bad already!
72. I know you think I am always busy and can't find time for you, but the truth is that I am always busy thinking about you.
73. You make me want to be a better person just so I can be more worthy of your love.
74. Your love makes my heart full, your hugs are warm and cosy, and your kisses send tingles down my spine.
75. Every night I fall asleep dreaming about what it would be like to hug you during the day and I pass every day imagining what it would be like to dream about you at night.
76. You make my sadness disappear with your beautiful smile.
77. I love it when I catch you looking at me, and then you smile and look away.
78. Just wanted to let you know I am thinking about you right now.
79. I made a wish and you came true.
80. My favourite place in the world is next to you.
81. My heart would burst if I tried to tell you all the ways in which I have fallen in love with you.
82. Before I met you, I never knew what it was like; to look at someone and smile for no reason.
83. Whenever I miss you all I have to do is close my eyes and I am right there with you.
84. Being with you has made me a better person by showing me that there is more to life than just being alive.
85. If it were not for your love, my life would be empty and incomplete.
86. Every time I see your face, it brightens up my day and makes everything seem alright when nothing really is!
87. You are the reason why everything seems alright even when it's not!
88. No matter how far apart we might be, deep down inside we will always be connected with each other!
89. When life gets too hard to stand, Kneel down and give God a chance!
90. My love for you is real. I feel so blessed to be with you every day, and my only wish is to spend the rest of my life with you.
91. A good man like you deserves true love and I will give it all to you, my dear.
92. I would rather spend one lifetime with you, than face all the ages of this world alone.
93. You make me want to be a better man just so I can be more worthy of your love.
94. I know I may not be the best, but I promise I will love you with all my heart.
95. If a kiss could say just how much I love you, I am sure we would be kissing forever.
96. Thinking of You brings a smile to my face and happiness to my heart because our love is stronger than anything else in this world. It's pure, passionate and unconditional!
97. When I look into your eyes, it's like falling in love all over again! Your eyes are so beautiful!
98. You are such an inspiration in my life. Thank you for always being there for me….for never giving up on me when things get tough and for being the most loving person that anyone can ever ask for.
99. You are my best friend, my human diary and my other half. You mean the world to me and I LOVE YOU so much.
100. Every time I see you smile, It makes me realize that we were meant to be together forever!
I hope you enjoyed these 100 love messages for him. Although all these love messages are carefully crafted, your personal touch is still important.
You may want to think about how you met each other, where you were his knight in shining armour, or maybe he was yours.
Whether it was love at first sight or a long friendship turned into a beautiful romance, the memories will become sweeter with the years and adding your own touches gives it that personal touch you both deserve.
Valentine Love Messages for Your Lover
Don't forget to follow me on Instagram or send me an email here if there's anything you'd like to talk about.
I'd also like to read from you in the comments if you relate to this post.